Maharashtra tour guide
Duration :
---
The third largest state and the second most populous state in India - Maharashtra - is brimming with an array of colorful shrines; a remarkable collection of caves; golden beaches lined with swaying palm trees
---
Maharashtra tour guide
Its Historic hotspots with strong past connection; and oodles of emerald hill stations under the canopy of lush western ghats. With an incredible mashup of everything, there's is no better place to go for a holiday in India than Maharashtra.The state is primarily known for its ancient Ellora and Ajanta caves, and pilgrim destinations. Plan a holiday in Maharashtra to witness the dazzling range of experience, beautiful landscapes and years of history.
Maharashtra Tourism
Language :Marathi, Hindi, English, Gujarati
Temperature :Summer 22°C-39°C; Winter 12°C-34°C
Tourist Season :Sep to Apr (Coast), Jun to Sep (Hill Stations)

Airports :Mumbai, Pune, Nagpur, Aurangabad, Nashik, Sholapur
Mode of Transport :Excellent Air, Rail and Road links are available for travel within the state and around.
Maharashtra Tourist Attractions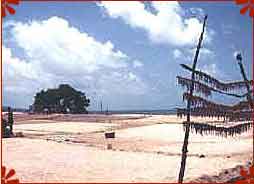 Alibag: It is in Raigad District. It is situated very close to the Arabian Sea and is a wonderful place for relaxation. Alibag has beaches and historical monuments like forts, temples and beautiful beaches.

Appu Ghar: It is in Pune. Number of children games is available at this fun park. Appu Ghar also attracts youngsters. There is a cool and comely Lake for older generation people near the park. For games, funs and frolics, it is a place worth visiting.

Baneshwar: It is situated 30 km away from Pune. This place is known for its scenic beauty and Baneshwar Temple. There is a garden and a small stream behind the temple. Visitors enjoy playing and swimming over here.

Bhushi Dam: It is a very popular picnic spot, which is located at a distance of about 5 km from Lonavala. A wonderful waterfall near the dam is one of the most thrilling spot. The dam is full with rainwater in monsoon.

Brahmagiri: It is located in Nashik. This is a mountain of 550m in height. Brahmagiri is the source of the Holy Godavari River. Godavari flows in three directions from the mountain - Godavari, Vaitarna, Chakra Tirth. Kolambika Devi Temple, Kolambika Devi Temple and Gorakh Gumpha Ganga Sagar are the other attractions near it.

Chaul: It is an old Portuguese settlement, located 40 km south of Mumbai. Portuguese settled here in 1522, and this area was later taken over by the Marathas. Visitors can find forts, churches, ancient Buddhist caves, temples and the ruins of an old Portuguese palace here.

Deolali Camp: It is one of the oldest important Indian army military centres. It is located 16 km away from Nashik. One can also shop at Deolali market near the camp. There is the famous temple of Lord Khandoba on the hills.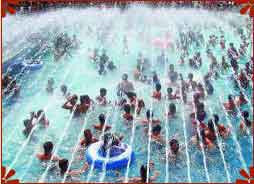 Esselworld: It is Mumbai's only international-style theme park and amusement centre situated close to Gorai Beach. Esselworld offers over 40 exciting rides, games, and attractions. The Water Kingdom of the fun park is said to be the largest of its kind in Asia.

Film City: It is located away from Mumbai's hurly burly life, on a quiet locality of Aarey Colony. The Film City is equipped studios, recording room, a theater, and facilities like garden, lakes, ground for fighting scenes, helipads etc. for outdoor shooting.

Snake Park: It is at Pune since 1986. The park has collection of a wide range of reptiles, birds, and others. The special attraction is the six-year-old, nine feet long King Cobra. Temples of Lord Shiva, Lord Ganesha, Vishnu and Kartikeya, Goddess Parvati are also there near the park.

Khadakwasla and Panshet Dam: These dams provide water to the entire Pune city. It is half and hour from Pune and two and half-hour from Mumbai. The amazing view of Sinhagad and Peacock Bay is again a major attraction of Khadakwasla. Panshet is very popular for water sports like Speed Boats and Water Scooters etc. One can have a nice road to Panshet surrounded by dark green woods.

Koyna Dam: It is known as one of the largest Hydroelectric Power plants in India. Having highest rainfall in the region, locality of the dam is gifted with thick forests. Best time to visit the dam is during the rainy days.

Vadhu and Tulapur: Sambhaji, son of Shivaji was killed in Tulapur and his samadhi was built in Vadhu. Tulapur is famous for the temple of Lord Shiva as well. In this temple, also known as Sangameshwar, Sambhaji was arrested by Aurangzeb and was later killed. Tulapur was originally known as 'Nagargaon'.
Maharashtra Lakes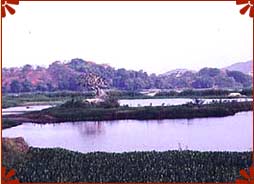 Having nearly around 23 lakes, Thane is popularly known as the 'City of Lakes' in Maharashtra. Talao Pali Lake, Upvan Lake are the most important most crowded lakes of the city.

It is believed that Rankala Lake in Kolhapur is the oldest of all lakes in Maharashtra. Ramkunk Lake in Nashik is popular, as it is believed that Lord Rama and Sita used to take bath in this lake during their exile.

The Mushi lake near Lonavala, Venna lake in Mahabaleshwar, Khindsey and Ambazari lakes near Nagpur, Lonar lake in Buldhana district, Pashan and Pimpri lakes in Pune and the Tansa, Tulsi, Vihar and Powai lakes in Mumbai are the lakes which attracts lots of visitors and popular as picnic spots where tourist groups often go for excursion on weekends